If you would like to post a fiber-related item for sale, please write up a description with the price and your contact information. A good quality photo in jpeg format may be included if desired. Email your description and optional photo to Betsy at betsyskinner52@gmail.com for the newsletter classifieds, and to Heidi Harris at hello@wcfaschool.com for the website. Thanks!
Items listed for sale will be posted for approximately three months unless renewal is requested. Please notify us when your ad should be removed.
---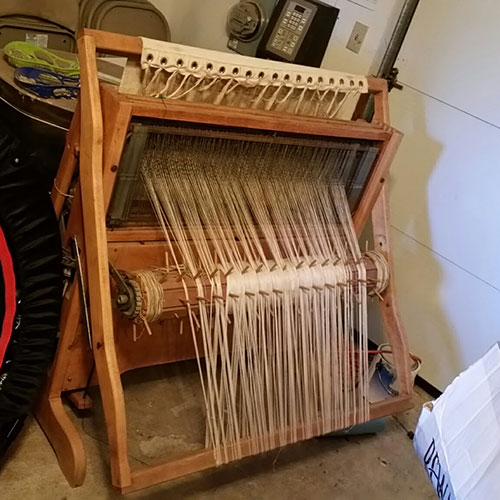 For Sale:
36-inch floor loom with four treadles
In working condition but needs some love.
$200
Susan Evans
suzleeevans@gmail.com
(posted January 9, 2018)
---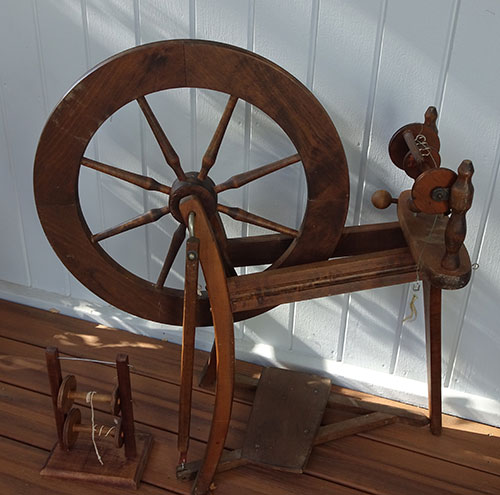 For Sale:
Ashford Wheel with three bobbins: $550 (price when new $785)
Upright Spinning Wheel (Similar to Ashford Kiwi 2): $325 (price when new $450)
All in very good working condition. Wear is seen from loving use.
Contact: Tajali at tajlittman@gmail.com
(posted November 2, 2017)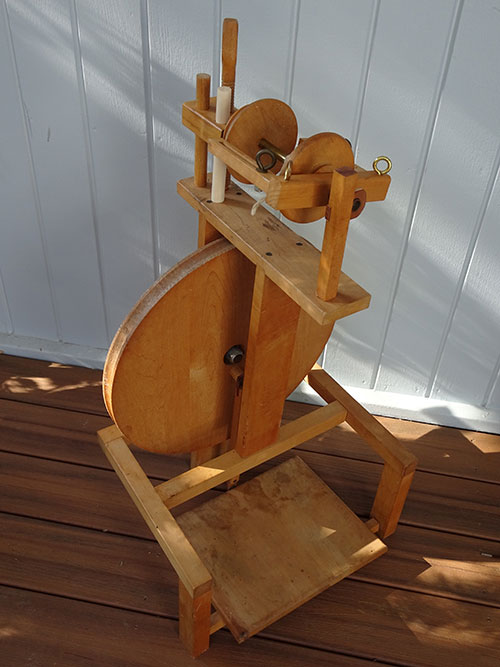 ---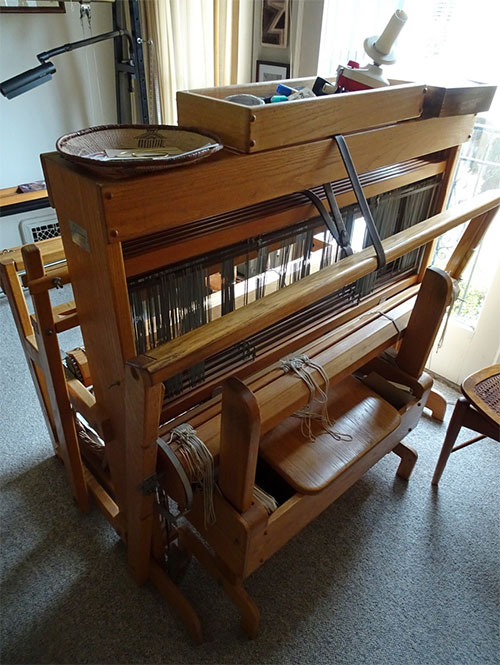 FREE Beautiful 8-harness floor loom available immediately in Los Angeles.
No cost to new owner but you must be able to pick it up and get it down one flight of stairs.
Made by: Studio of Handcrafts, Tarzana, CA.
46" weaving width
8 harnesses
Friction brake
Sectional warping beam
Adjustable loom bench
Total width: 56 inches
Depth when folded: 35 inches
More details included in attachment: studio-of-handcrafts-loom
Owner is leaving the country in a few weeks and needs to quickly find this loom a new home.
If interested, please email Marcia Ellis: mellis@sonic.net
Thank you!
(posted October 25, 2017)
---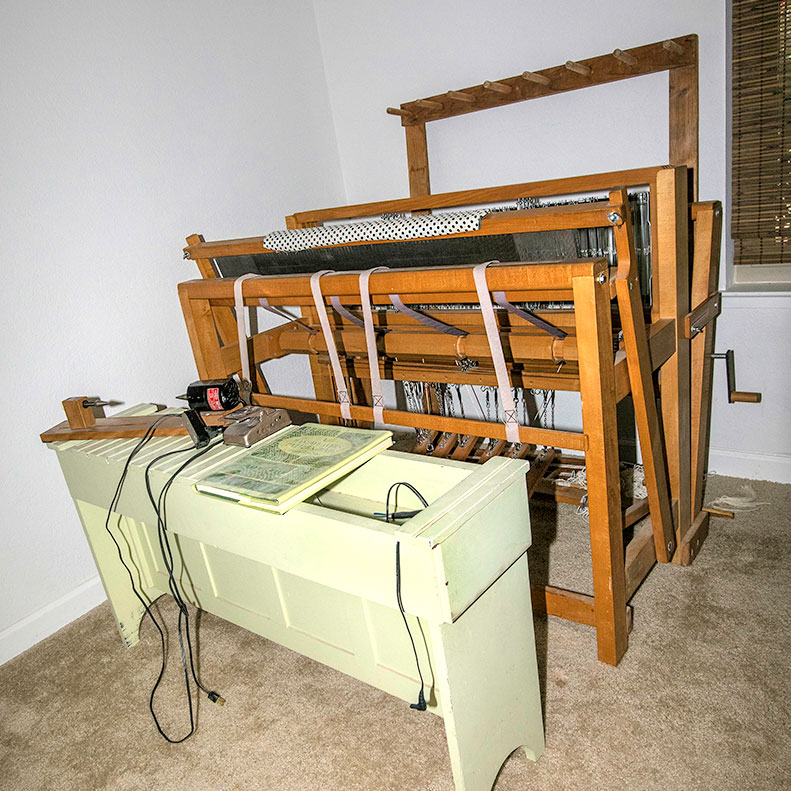 4 harness loom for sale
46" wide; 40" wide work space
We also have a warping board, a yarn winder, lots of shuttles, weaving books, a bench and many more accessories.
Price: $500
Anne Schroder
707-827-2303
Sebastopol, CA
(posted September 2017)
---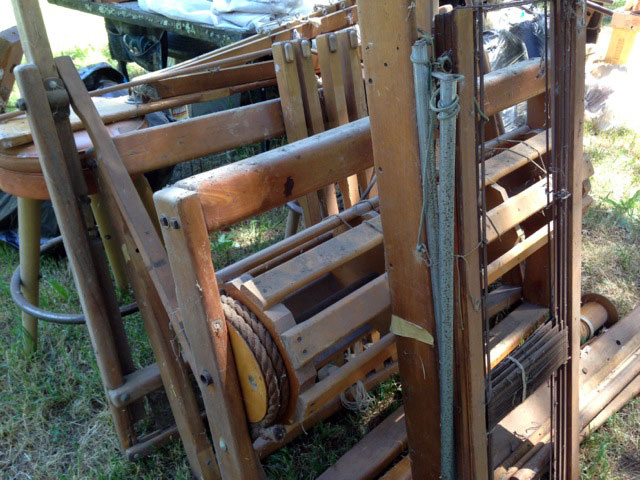 Hand-crafted about 40 years ago:
48-inch 4 harness maple floor loom with 6 treadles
FREE: I would like to give my wife's loom to a good home.
I purchased this loom about 35 years ago from an artisan in Los Angeles for my wife's birthday. He had lovingly hand-crafted it for his own wife who was a lifelong weaver.
The loom is currently disassembled and has been in storage. Wood is in good shape but needs cleaning; the heddles are rusted but can easily be replaced. 
Contact: Tom Silberkleit at tsilber@napanet.net
(posted August 2017)
---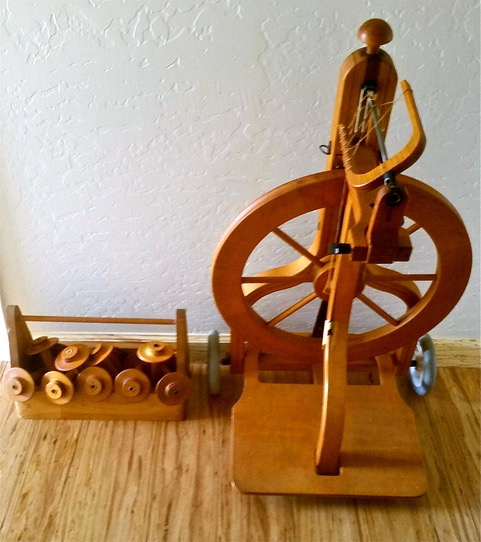 Schacht Single Treadle Spinning Wheel
Wood: Maple and Black Walnut
Dimensions:
Width 19 1/2"
Height 32 3/4"
Depth 16 1/2"
Weight 16 lbs.
It has rubber wheels for easy transport, and comes with assorted, bobbins and whorls. Instruction book included.
Asking $500 or best offer.
Contact: Georgianna at georgiechess@gmail.com
(posted August 2017)
---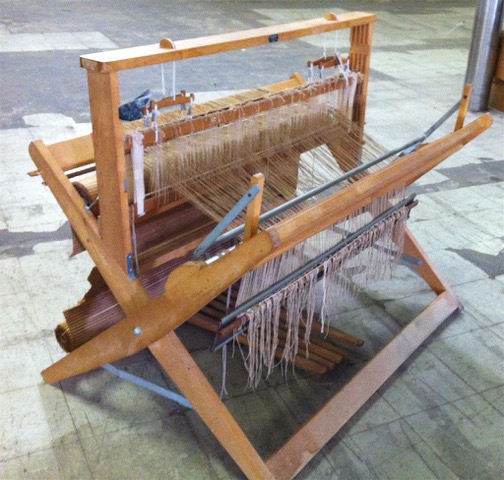 Lillstina 36" Folding Floor Loom
Counterbalance, 4 Harness, 6 Treadle
Includes: string heddles, a few shuttles, lease sticks, reed (10dent), warping board.
$350
Contact: Dianna at 707-590-3554
(posted June 2017)
---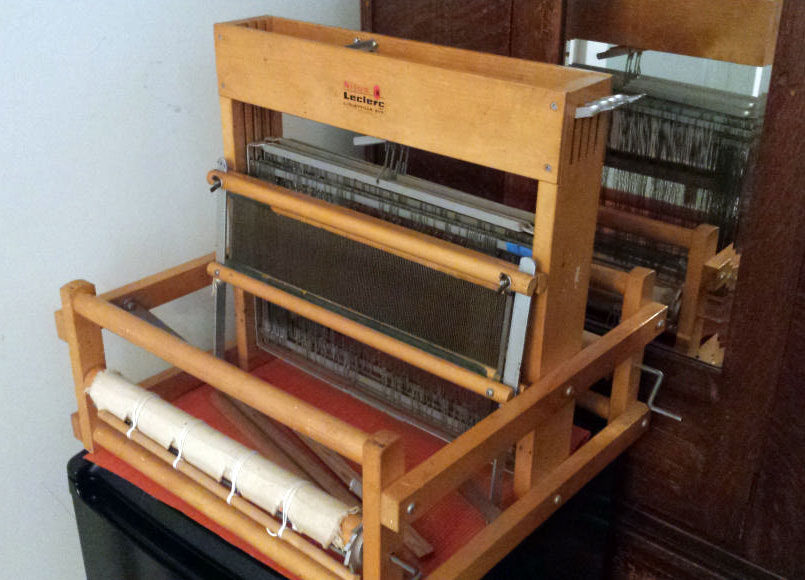 Leclerc Table Loom
I'm moving and have enjoyed weaving with Marta Shannon a few years ago using this gem of a table loom. Great condition and has all the pieces, 4 shaft, 12" dent, 15" Le Clerc table loom.
Asking $250 (new price is $680)
Loads of photos online of similar ones if this doesn't satisfy. Loom currently in SF but I'm happy to arrange a time/meeting place when I'm back up in Petaluma periodically during the transition.
Contact: Susan Topf
p: 707 / 636 - 4436
e: susan@buildyourpeace.com
(posted June 2017)
---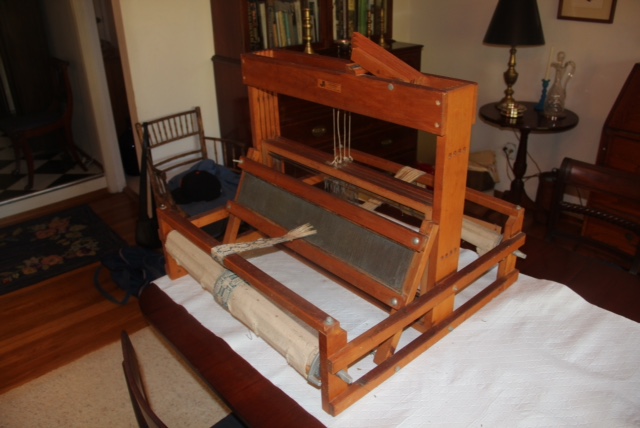 I would like to sell my JMade four harness, 24" table loom. I have had it for about 40 years and haven't used it for 30. It is in very good condition. I would like $275.00 for it.
Contact: Lisle Lee
707-762-7177
(posted May 2017)
---
Gilmore 40-inch 8 harness maple floor loom, in excellent condition.
I am asking $2000 for it. I also have a Gilmore bench for $150. (New, the loom costs $3,371 and the bench $387.)
Information on the manufacturer's website: http://www.gilmorelooms.com/MapleFloor.html
Contact: Del Raby at delbert@sonic.net
(posted April 2017)