If you would like to post a fiber-related item for sale, please write up a description with the price and your contact information. A good quality photo in jpeg format may be included if desired. Email your description and optional photo to Marilyn at mbordessa@verizon.net for the newsletter, and to Dustin at dustinkahn@gmail.com for the website. Thanks!
Items listed for sale will be posted for approximately three months unless renewal is requested. Please notify us when your ad should be removed.
For sale: Schacht 14-Yard Warping Board
Maple, 39" x 31" x 6"
Lacks hardware (corner nuts & bolts)
I am asking $85, located in Larkspur
Contact Sarah @ 1-415-559-1273 and sarahgdale@gmail.com
Click images to enlarge.
(posted 11/19/18)
WANTED: old j-hook heddle bar holders for 100-year-old loom
3¼" long with threads at end. Many people had them on older looms but they replaced them with the spring loaded screw. If you kept the old style and wish to sell I'd be interested in purchasing several.
Contact: Julie at 707-200-8469 (home) or 323-309-6644 (mobile), or email at jsergojan@yahoo.com
(posted 10/29/18)
FREE: Small homemade loom
My young daughter used to attend guild meetings and was very active weaving. But now she is keeping her larger loom and needs to get rid of this small one because of space issues.
Might there be an instructor who could use it, or someone who wants to teach a child?
Size: 49.5" tall X 33" wide
Location: Occidental (Could also deliver if need be)
Contact: Ann at 707-874-2583
Click images to enlarge.
(posted 10/26/18)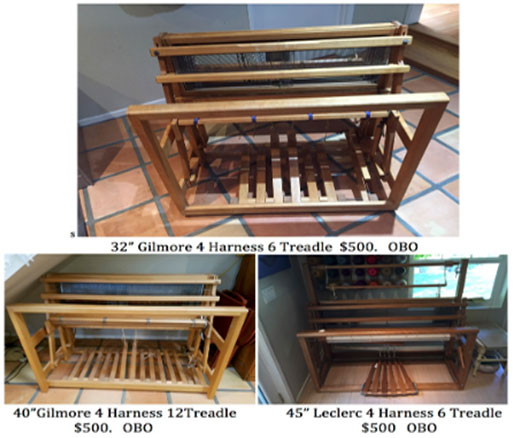 3 Looms and Weaving Supplies for sale:
32-inch Gilmore 4-harness, 6-treadle – $500 OBO
40-inch Gilmore 4-harness, 12-treadle – $500 OBO
45-inch Leclerc 4-harness, 6-treadle – $500 OBO
Perfect for a teaching studio, or individual looms for personal use.
Able to deliver in the SF Bay Area.
Contact: Juli, bignamibruce@gmail.com or (925) 300-8402
(posted 10/22/18)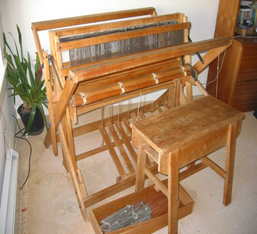 48-inch Gilmore Floor Loom for sale
48" Gilmore X Frame Floor Loom and Bench, folds to 24", Eastern maple 4 harness, 6 treadles, 1 box of nettles, 1 shuttle, 1 reed, 1 lease stick.
This is an older loom that has not been used for over 25 years. Has been stored in a dry place. Needs a little work.
Price: Free
Contact: Chris Mills, christine-mills@comcast.net or 415-386-5138
(posted 10/22/18)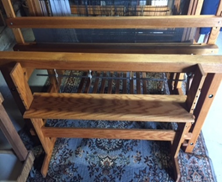 Custom Built Floor Loom for sale
I have a large custom-built floor loom that I'm try to sell. It was my mom's before she passed a few years ago. It is an 8-shaft floor loom that has been setup in a cool dry room out of sunlight. It comes with a bench and a cart for storage of weaving items. Looking for $3000 for it. It is local in Petaluma.
Contact Heather at froggy3301@aol.com
(posted 10/22/18)
Craft/hobby/sewing table for sale
Excellent condition. Both sides of table fold. Very easy setup.
35"h x 59.5"L, x 36"w. Folded: 35"h x 36"L x 13.5"w
$60 or best offer.
Table is on wheels so easy to move.
This table is too high for me to work.
Contact Jamie Blumenthal
707 695-4145
musictherapy@msn.com
(posted 10/13/18)
Leclerc warping wheel for sale
Hello, my name is Sarah Grierson, I live in Larkspur and I have a 50-yard Leclerc warping wheel for sale for $250. New it sells for $725 and it is in good working condition, has an easy set-up and take down. It is worn and weathered a bit from being stored in a shed but it's great and very discounted. If you live in the Bay Area I can deliver it.
Let me know if you have any questions at sarahgdale@gmail.com
Thank you,
Sarah
(posted 9/26/2018)
Click images to enlarge.
Looms and yarn for sale
I am trying to find good homes for some items of my mother-in-law's, who was a weaver and fiber artist. She worked mostly with Tamalpais Weavers, who I have not been able to contact, and she also took classes at College of Marin.
As of now, I have three items:
Nilus LeClerc Dorothy table loom, $500
portable tapestry loom, $50
chest full of yarn, assorted colors, all wool, as far as I can tell, $150 (?)
I hope to find interested parties for these items. My mother in law was very accomplished, and I know she would want these items put to good use.
Contact:
Sharon Morgan
707-695-7159
shron7@tsmorganfamily.us
(posted 8/26/18)
Click images to enlarge
Two looms for sale. They were my brother-in-law's — a longtime weaver and resident of Sebastopol. We also have a large inventory of yarn, macrame supplies, beads, along with weaving tools and a 3 antique reeds.
42" Maple Jack Loom by Towle
4 shaft
6 treadles
15" dent reed
Flat metal heddles
Sectional warp beam
Bench
Excellent condition. Asking price $500.00 Assorted supplies available. Must pick up and disassemble. Located in Sonoma County.
48" Macomber Loom (Ad-A Harness)
4 shafts "now", 4 "later"
6 treadles with possibility of extension
10 dent reed
1 sectional warp beam
Kiln dried maple construction
Bench
Spool rack
Excellent condition. Asking price $1,200. Additional supplies available. Must pick up and disassemble. Located in Sonoma County.
Contact: RoxAnn Ratican at fallrats@gmail.com or 760-468-2696
(posted 8/2/18)