If you would like to post a fiber-related item for sale, please write up a description with the price and your contact information. A good quality photo in jpeg format may be included if desired. Email your description and optional photo to Marilyn at mbordessa@verizon.net for the newsletter, and to Dustin at dustinkahn@gmail.com for the website. Thanks!
Items listed for sale will be posted for approximately three months unless renewal is requested. Please notify us when your ad should be removed.
Craft/hobby/sewing table for sale
Excellent condition. Both sides of table fold. Very easy setup.
35"h x 59.5"L, x 36"w. Folded: 35"h x 36"L x 13.5"w
$60 or best offer.
Table is on wheels so easy to move.
This table is too high for me to work.
Contact Jamie Blumenthal
707 695-4145
musictherapy@msn.com
(posted 10/13/18)
Leclerc warping wheel for sale
Hello, my name is Sarah Grierson, I live in Larkspur and I have a 50-yard Leclerc warping wheel for sale for $400. New it sells for $725 and it is in good working condition, has an easy set-up and take down. It is worn and weathered a bit from being stored in a shed but it's great and very discounted. If you live in the Bay Area I can deliver it.
Let me know if you have any questions at sarahgdale@gmail.com
Thank you,
Sarah
(posted 9/26/2018)
Click images to enlarge.
Floor loom for sale
It's a beautiful—and large—wooden loom that I need to find a new home for by the end of September. It has been in storage for a while, most recently in my garage in San Rafael. I have to move by September 30th and sadly can't take it with me. I hope to sell it, though I don't know what it's worth.
Dimensions: 50" length x 40" width x 56" height
May need some TLC to get it working. Will need a truck and a few really strong people to lift it.
Arrange a time to view/pick up. Located in San Rafael.
Will consider any offer.
Call or text Sarah
607-279-1468
(posted 9/17/2018)
Click images to enlarge.
Looms and yarn for sale
I am trying to find good homes for some items of my mother-in-law's, who was a weaver and fiber artist. She worked mostly with Tamalpais Weavers, who I have not been able to contact, and she also took classes at College of Marin.
As of now, I have three items:
Nilus LeClerc Dorothy table loom, $500
portable tapestry loom, $50
chest full of yarn, assorted colors, all wool, as far as I can tell, $150 (?)
I hope to find interested parties for these items. My mother in law was very accomplished, and I know she would want these items put to good use.
Contact:
Sharon Morgan
707-695-7159
shron7@tsmorganfamily.us
(posted 8/26/18)
Click images to enlarge
Two looms for sale. They were my brother-in-law's — a longtime weaver and resident of Sebastopol. We also have a large inventory of yarn, macrame supplies, beads, along with weaving tools and a 3 antique reeds.
42" Maple Jack Loom by Towle
4 shaft
6 treadles
15" dent reed
Flat metal heddles
Sectional warp beam
Bench
Excellent condition. Asking price $500.00 Assorted supplies available. Must pick up and disassemble. Located in Sonoma County.
48" Macomber Loom (Ad-A Harness)
4 shafts "now", 4 "later"
6 treadles with possibility of extension
10 dent reed
1 sectional warp beam
Kiln dried maple construction
Bench
Spool rack
Excellent condition. Asking price $1,200. Additional supplies available. Must pick up and disassemble. Located in Sonoma County.
Contact: RoxAnn Ratican at fallrats@gmail.com or 760-468-2696
(posted 8/2/18)
For sale: 4-harness loom
I am offering this loom to a beginner for $400. I don't know much about the loom except that it is a four harness loom with 6 treadles, and a 40" beater with 36" frame, counterbalance loom. There is also a sturdy wooden bench that comes with the loom.
My cell phone is the best way to contact me (707.548.2110), or this email address: gloyer@gmail.com. The loom must be picked up from my home in Santa Rosa near the Flamingo Hotel.
Thank you!
George
(posted 8/1/18)
Click image to enlarge
For sale: 10 harness/10 treadle countermarche loom
I am a weaver in Oakland, CA, and I would like to sell my 10 harness countermarche loom to someone who will use it.
Description: 10 harness/10 treadle Lervad (Danish) countermarche loom/convertible to counterbalance. Very similar to a Glimakra loom. Made of Danish beech with a few parts in maple. Weaving width is 130cm (about 49"). This loom is deeper than any other countermarche loom I have ever seen, which reduces wear on the warp threads, and the treadles and harnesses are easily accessible. Mortise and tenon construction, back slung treadles, overhead beater, cloth protector, adjustable bench included. I will also include a couple of shuttles with bobbins.
All parts are in good working order. It also comes with 10 harness damask harnesses, and most of the parts to be converted to a counterbalance mechanism if you so desire. It has about 900 or so texsolv heddles and all texsolv tie up cords.
I have used this loom for the past 10 years and it really weaves like a dream! I have woven everything from lace to large rugs on it with no trouble. I'm only selling it because I am upgrading to a 16 harness 63" loom. A similar 10 harness loom new from Glimakra would cost more than $5000. I am asking $2200 or best offer.
Contact:
dro handwoven
David Oorbeck, weaver and artisan
510.768.7440
drohandwoven.com
drohandwoven@gmail.com
Follow dro handwoven on Instagram!
(posted 7/8/18)
Click images to enlarge
For Sale: Norwood, 50" ,4 harness, 6 treadle, folding floor loom, solid Northern Cherry hardwood in excellent condition. Bought new in 1972 directly from the factory in Baldwin, Michigan. Includes upright spool rack, tensioner and 2 reeds. Very little use. Asking $1,150.00. Delivery possible
Sue or Rick Lind
530-701-2814
slind160@gmail.com
(posted 6/28/18)
For Sale
* LIKE NEW
* SOLID MAPLE 36" - 4 HARNESS LECLERC * NILUS * WEAVER FLOOR LOOM
* WEAVING TOOLS, REEDS, SEVERAL SHUTTLES
* FOLDS UP FOR EASY STORAGE
* ORIGINAL OWNER
* ALWAYS STORED IN THE HOME - NO GARAGE OR STORAGE UNIT!
* PET-FREE. SMOKE-FREE HOME
* GILMORE MAPLE BENCH ($900 new)
* NEW RETAIL = $3195 +/-
* ASKING $1200 / BEST OFFER - for everything
* NO SHIPPING
* LOCATED IN NAPA
Contact: Tara Rokstad
******* PLEASE CALL ONLY ~ NO TEXTS 707-480-7909 ******
(posted 6/28/18)
Click photos to enlarge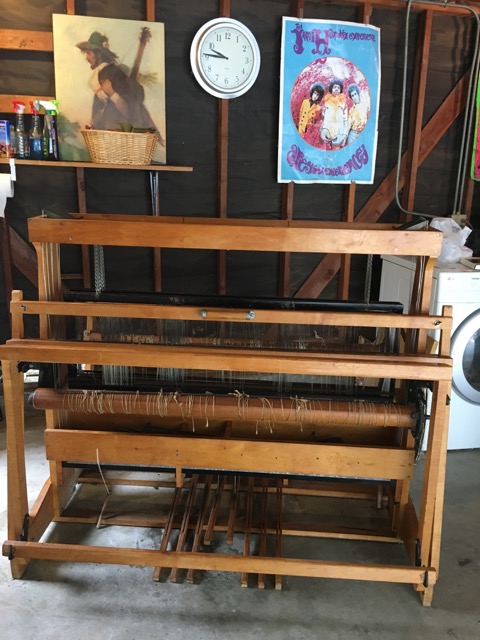 For Sale:
L.W. Macomber AD-A Harness Loom
This is a model B4 6-harness loom with 48" weaving width. The loom was made in 1970. I purchased the loom in 1978, in Berkely, California, from the original owner. Macomber is asking $4,097 for this model. I am asking $2,500.
There is a tad bit of water stains on the wood. Since we moved to Southern California in 1990, I have not been able to use the loom as I once did. The loom has been stored in our garage in Irvine, CA.
Contact:
Susie Adorante
(949) 433-4616
(posted May 7, 2018)