WILD MUSHROOM/LICHEN DYE WORKSHOP
presented by Alissa Allen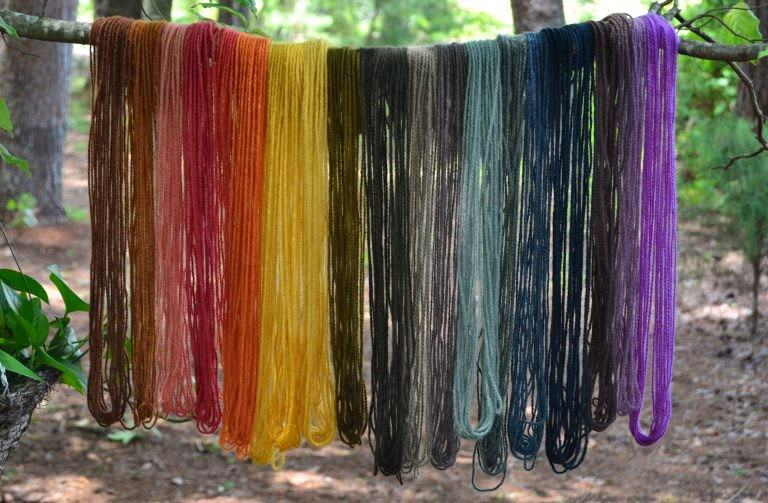 Explore your Regional Dye Palette
Every region has its own palette of mushroom and lichen dyes. This class takes a in-depth look at using local, wild fungi as sustainable, safe dye sources. Starting with 10-12 different species, we end up with about 20 colors in all. Students will take home a detailed recipe card showcasing the rainbow of samples dyed in class.
Participants work with wool and silk fiber. Yarn is premordanted to allow ample time to focus on dyes, however there is discussion on the steps for preparing the fibers for the dye bath. This includes scouring, mordant ingredients and techniques to avoid felting wool.
Participants are guided through the steps to create an intricate Arashi shibori inspired design. Each participant receives a blank scarf for practice. This workshop covers all aspects of getting started with mushroom and lichen dyes, and leaves the student with the tools to carry on with their own exploration.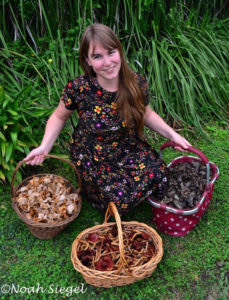 INSTRUCTOR
Alissa Allen is an amateur mycologist who specializes in presenting regional mushroom and lichen dye palettes to communities all over the country. Alissa has been sharing her passion for mushroom and lichen dyes and collaborating with other dyers for over 12 years. She has written articles for "mycopigments.com" the "Fibershed Blog" and "Fungi Magazine", and created two active discussion groups: "Mushroom and Lichen Dyers United" and "The Mushroom Dyers Trading Post". She is dedicated to furthering the art and science of mushroom and lichen dyeing through community engagement, open discussion and friendly encouragement.
PARTICIPANTS
Minimum 10. Maximum 15
DATE AND TIME
Monday. January 22, 2018
10 - 4
LOCATION
Cotati Community Facility
Willow Room
201 West Sierra Ave.
Cotati, CA
FEES
members - $125.
non members - $150
All materials are included in the
workshop fee.
BRING
Personal lunch and any beverages and snacks
Kitchen gloves
Wear clothes appropriate for splashes and possible added color.
CONTACT PERSON
Mary Beckman
mary.beckman@gmail.com
(707) 695-3262
---
Workshop Registration, Payment, Refund and Cancellation Policy
Registrations for workshops will be accepted in the order received.
Full payment for the workshop must be received within 3 days of registration in order to hold a participant's place.
Refunds will only be made for cancellations if the remaining registration meets the minimum participant requirement for the workshop. (The minimum participation requirement is the number of participants it takes to totally pay for the workshop.)
Refunds will not be made for workshop costs already incurred at the time of cancellation (such as material fees).
If the workshop is cancelled, participants will receive a full refund except for cost already incurred (see #4)
All registration must be made and paid in full at least 5 weeks before the date of the workshop.
If the minimum number of participants have not registered and paid for 5 weeks before the date of the workshop, the workshop shall be cancelled.
---
WORKSHOP IS CURRENTLY FULL
If you would like to join the waitlist, please submit the form below.