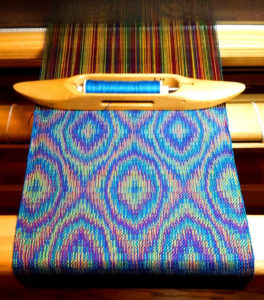 Linda Hartshorn is known for unique dyework and lively use of color in her handwoven textiles. With over fifteen years of teaching experience, Linda enjoys leading workshops all over the country. She recently opened Lost Coast Weaving Studio in the mountains of Northern California, where she holds classes and creates her own work. Linda is a two-time winner of the Victor Thomas Jacoby Award.
Lecture:
Color for Fiber Artists
February 7th, 2018 at 10:30am
Luther Burbank Art & Garden Center, 2050 Yulupa Ave, Santa Rosa
Non-guild members are welcome
2½-day Workshop:
Weaving in a Parallel Universe
February 7, 8, and 9, 2018
Half day: February 7th, 2018
12:30pm – 3:30pm
Luther Burbank Art & Garden Center, 2050 Yulupa Ave, Santa Rosa
Days 2 & 3: February 8 & 9, 2018
9:00am – 4:00pm
Cotati Community Center, 201 Sierra Ave., Cotati, CA, in the Mountain Classroom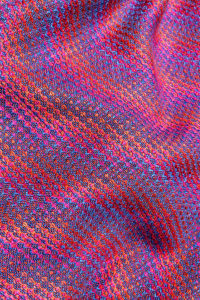 Explore a Parallel Universe of possibilities in weaving! Parallel threadings are incredibly versatile and can be used to weave a variety of structures including polychrome twills, four color doubleweave, and turned taquete. Create vibrant colorways, echoes and iridescence by using two or more colors in the warp. Weave samples in a round robin, study drafts and learn how to create a parallel threading. Add the power of parallel threadings to your weaving repertoire.
Number of Students: minimum 10, maximum 15.
Level: Intermediate-advanced, must be able to warp your loom.
Student Materials fee: $15 for workshop notebook with handouts and all drafts.
Students should bring: Portable floor loom or table loom, 8 or more shafts, in good working order. Loom will be pre-warped according to instructions. Two boat shuttles with bobbins, scissors, tape measure, weft yarn, and Fray Check (a fabric glue for separating samples). Bring any items needed to mend broken warps. For notetaking and drafting bring pen, pencil, paper, and colored pencils.
Workshop fee for guild members: $98.00 plus $15.00 materials fee
Workshop fee for non-guild members: $108.00 plus $15.00 materials fee
For more information: Contact Ellen LaBruce at elabruce@sonic.net or 707-938-1993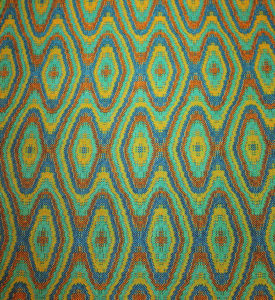 ---
Workshop Registration, Payment, Refund and Cancellation Policy
Registrations for workshops will be accepted in the order received.
Full payment for the workshop must be received within 3 days of registration in order to hold a participant's place.
Refunds will only be made for cancellations if the remaining registration meets the minimum participant requirement for the workshop. (The minimum participation requirement is the number of participants it takes to totally pay for the workshop.)
Refunds will not be made for workshop costs already incurred at the time of cancellation (such as material fees).
If the workshop is cancelled, participants will receive a full refund except for cost already incurred (see #4)
All registration must be made and paid in full at least 5 weeks before the date of the workshop.
If the minimum number of participants have not registered and paid for 5 weeks before the date of the workshop, the workshop shall be cancelled.
---
WORKSHOP IS CURRENTLY FULL
If you would like to join the waitlist, please submit the form below.