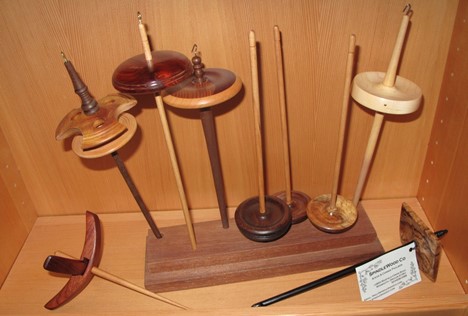 Amelia Garripoli – November 2021
Amelia Garripoli has been spinning and weaving since 2001 when she purchased a house that came with 2 llamas, and has loved all the tools, critters, and fibers she's met since. That led her to start AskTheBellwether, her blog, which early on focused on spindles and rare breeds, but soon branched out to many fiber arts. Amelia is a lifelong knitter/crocheter, so has always been into "yarn things". She recently relocated from Washington to Colorado to help care for her parents, which she says has been a blast reconnecting with them!
Lecture: Spindle Tricks
November 3 at 11:00AM Pacific, during the guild meeting
Non-guild members are welcome
Online Zoom meeting.
Online Workshop: Learn to Spin on Spindles
Saturday November 6, 2021 – 9:00 AM – 12 PM Pacific
Workshop fee for guild members: $30.00
Workshop fee for non-guild members: $45.00
A Bellwether Spindle and wool roving kit is available for $15, and Amelia Garripoli's book Productive Spindling is available for $18 until October 15 for those who signed up for this workshop. These will appear in your cart once you add the workshop fee. Amelia will send everything in one package to the organizer for distribution. There may be shipping costs if you cannot arrange a pick up.
$

30.00 –

$

45.00
Select options