Lecture:
A Brief History of Spinning Fiber
Wednesday, March 7th, 2018 at 10:30 am
Luther Burbank Art & Garden Center, 2050 Yulupa Ave, Santa Rosa
Non-guild members are welcome

This lecture will focus on hand spinning, beginning with archeological and paleontological evidence that humans started wearing clothing 100,000 to 500,000 years ago, to the evolution of technique for making thread and yarn—from rolling fibers down the thigh with the hand to "modern" bobbin and flyer wheels.
Drop spindles will be shown and described, and the lecture will include information on the class, type, and style of spinning wheels, how they changed through tine, and how they work.
Workshop:
Care and Feeding of Your Spinning Wheel
Wednesday, March 7th, 2018, from 1:00 to 3:00 pm
Luther Burbank Art & Garden Center, 2050 Yulupa Ave, Santa Rosa
This workshop is subdivided into four sections: 1) identifying problems with a spinning wheel—this is particularly useful if you are considering buying a used or antique wheel; 2) cleaning your wheel to make it work better; 3) lubricating the wheel with proper lubricants; and 4) making basic repairs.
During the workshop I will break down a spinning wheel I have and do a thorough cleaning and lubrication. Participants may bring their wheels to the workshop and begin some of the work, but it is likely that more time will be needed to finish cleaning and lubricating them. I will also go over basic repairs that I frequently encounter and how I correct them, including:
Drive belts that slips or jump off the drive wheel
Clicking sounds
Fliers that turn slowly in maiden bearings
Missing or broken wooden parts
Missing or broken fliers
Missing, broken, or badly warped drive wheels
Issues you may have
Number of participants: minimum 5, maximum 24
What to bring: your spinning wheel; kitchen gloves are optional
Workshop fee for guild members: $20.00 (All materials are included)
Workshop fee for non-guild members: $25.00 (All materials are included)
For more information: Contact Mary Beckman at mary.beckman@gmail.com or 707-695-3262
---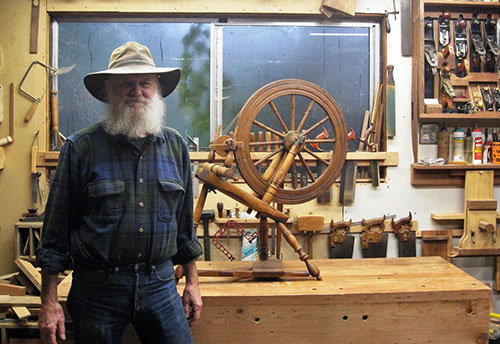 About Tom Spittler
My father was a woodworker and craftsman who built the house in which we lived almost entirely by himself. He then started building fine furniture and later built a cabin where I was able to do quite a bit of the work as well as helping with the furniture. In the early 60s I began my woodworking life by making skateboards for myself and friends. A few years later I transitioned into making dulcimers and sculpted wall hangings for family and friends.
During my 40 years as a Geologist, I did significant remodeling on our two homes and continued making furniture. Over the last 20 years I slowly transitioned from power tool work to using hand tools for most of my work.
My history with spinning began when my son took us to the Renaissance Pleasure Fair at old Black Point. Following that trip, my wife began participating in Historical Reenactment and was asked to learn to spin with a drop spindle. After looking at the one she was using, I found I could make a better one, and that was quite a few thousand drop spindles ago…… Upon requests from spinners in the area, I began making niddy noddies, nostepinnes, wool combs and other spinning tools.
When my wife inherited the ancestral family spinning wheel, which needed repair, I decided to practice on another wheel before starting. I bought an old Saxony wheel and began significant repairs and retooling. When a friend heard I had repaired our wheel, I was asked to repair hers, and the word spread. For the last 10 years I have repairing and tuning up spinning wheels.
---
Workshop Registration, Payment, Refund and Cancellation Policy
Registrations for workshops will be accepted in the order received.
Full payment for the workshop must be received within 3 days of registration in order to hold a participant's place.
Refunds will only be made for cancellations if the remaining registration meets the minimum participant requirement for the workshop. (The minimum participation requirement is the number of participants it takes to totally pay for the workshop.)
Refunds will not be made for workshop costs already incurred at the time of cancellation (such as material fees).
If the workshop is cancelled, participants will receive a full refund except for cost already incurred (see #4)
All registration must be made and paid in full at least 5 weeks before the date of the workshop.
If the minimum number of participants have not registered and paid for 5 weeks before the date of the workshop, the workshop shall be cancelled.
---
WORKSHOP IS CURRENTLY FULL.
If you would like to join the waitlist, please submit the form below.
---